Veneers in Portland, Maine
The Best Dental Experience You'll Ever Have
Our Mission: To Help You Thrive and to be a Champion of Local Wildlife Conservation
While appearances may not be everything, they are extremely important for your self-esteem in social and career situations. Your smile is the first thing that people notice about you. If your teeth are discolored, worn down, or otherwise unhealthy looking, it has an impact on your confidence. Hiding your smile because of your teeth makes you look guarded and unfriendly. Thrive Dental Studio can help you regain your bright smile and your self-confidence with a wide variety of cosmetic dental procedures including dental veneers.
What Are Veneers?
Dental veneers are very thin shells that are affixed to the front of teeth. Veneers are completely customized for each patient. Cosmetic veneers are used to change the color, shape, size, and length of teeth.
Porcelain Veneer Procedure
Your comfort and safety are always our number one priority at Thrive Dental Studio. When you schedule an appointment for porcelain veneers, we'll do our best to make the experience pleasant and positive. Here's what you can expect from Dr. Figueiredo and the rest of the staff:
Exam, Diagnosis, and Treatment Planning

The first, most important step in any dental procedure is for us to get to know you a bit better. We'll ask you some questions about your dental health, your goals for cosmetic dentistry, and other things related to your teeth. But, we'll also ask questions about your overall health and well-being. Once we've gotten the introductions out of the way, Dr. Figueiredo will perform a thorough exam of your teeth, mouth, and gums. 
Tooth Preparation and Reshaping:

If you're a good candidate for

porcelain veneers

, the dentist will need to remove some of your tooth's enamel, and then he'll take an impression of your teeth. This impression will be turned into a mold that will be used to create customized

veneers

for each tooth. 
Bonding the Veneers:

Once the

dental veneer

shells are completed and the color match is approved, Dr. Figueiredo will bond the veneers to your teeth. This part of the procedure involves cleaning and etching the tooth's surface, then applying the

veneer

using a special type of cement that will bond with the tooth. 
What Can Porcelain Veneers Treat?
Dental veneers are considered cosmetic dentistry because their function is to improve the appearance of the teeth. There are many instances where veneers can be used to improve the color of teeth are including:
Discolored teeth due to root canal treatment 

Heavily stained teeth due to medications and other factors.

Stains from excessive fluoride use.

To hide large resin fillings. 
Veneers can also be used to improve the appearance of teeth that are damaged in other ways such as:
Building up worn down, uneven teeth.

Repairing chipped or broken teeth.

Smoothing irregularly shaped, misaligned, uneven teeth.

Closing gaps and spaces between teeth
How to Care for Porcelain Veneers
Fortunately, dental veneers don't require any special care. You really don't have to do much beyond your normal dental hygiene routines. It's important to continue to brush and floss as you normally would. It's also important to see your dentist for regular annual checkups.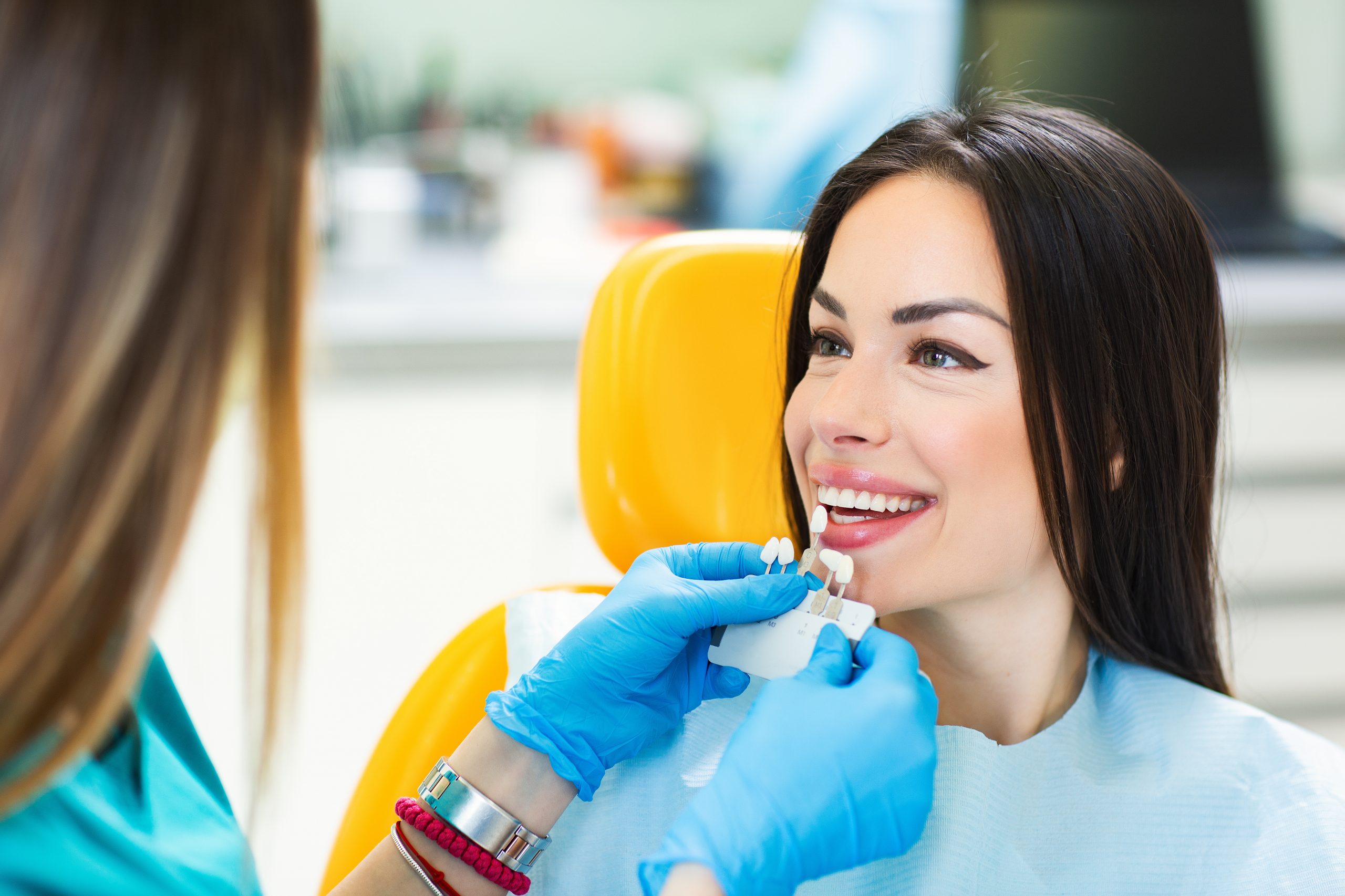 Porcelain Veneer Benefits
Besides correcting imperfections in your smile and improving your self-esteem, porcelain veneers offer several other benefits including:
A natural tooth appearance.

Porcelain veneers are generally well-tolerated.

Unlike tooth enamel,

porcelain veneers

resist stains.

Veneer colors can be adjusted for the perfect match.
Schedule a Consultation Appointment Today 
If your teeth are discolored, crooked, or otherwise unattractive, and you're looking for an effective way to improve your smile, we'd love to talk to you about porcelain veneers. Contact us at Thrive Dental Studio to schedule an appointment with Dr. Figueiredo today for a complete dental exam and consultation.